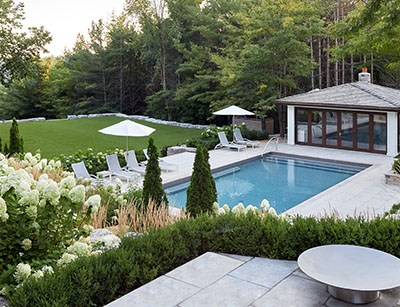 With a long list of ideas on how to transform their backyard this client was excited to see what we could do. There were existing features we needed to work around (pool, deck, armour stone walls) but no lack of space. Grade changes were our biggest disadvantage. Whatever we designed would be separated by steps or walls, so we had to make sure each space was created with a purpose.
Large grade changes throughout the property
Existing features on site that we were required to design around (pool, upper patio, deck & retaining walls)
Filling a lot of gardens without creating a messy space that was impossible to maintain
Making sure each space felt connected & cohesive
The view from each angle of the property was outstanding and we didn't want the design to feel out of place. A simple, light natural stone on all the patios and walkways created a timeless look. The client wanted to use the property for charity events, so a large flat turf area was constructed at the back of the property, perfect for setting up tables, chairs and a stage if needed. It also created the perfect look out point into the back of the property, dropping off into a ravine. A lot of focus throughout the project was the plant selection. With a large amount of garden beds, we wanted to maintain a clean and formal look, while still offering seasonal interest. We did this by edging the beds with boxwoods, adding white hydrangeas throughout the beds for constant colour, and subtle pops of purple and yellow. This along with the already breathtaking natural backdrop of the space, is more than enough to make this project stand out.

Flagstone material on all patios and walkways
Lush plant beds and extensive planting plan
Large level turf space for events
Upper and lower patio with fire features
Walkway through garden beds
Stepping stones in turf
Armour stone retaining walls
Ipe privacy screens