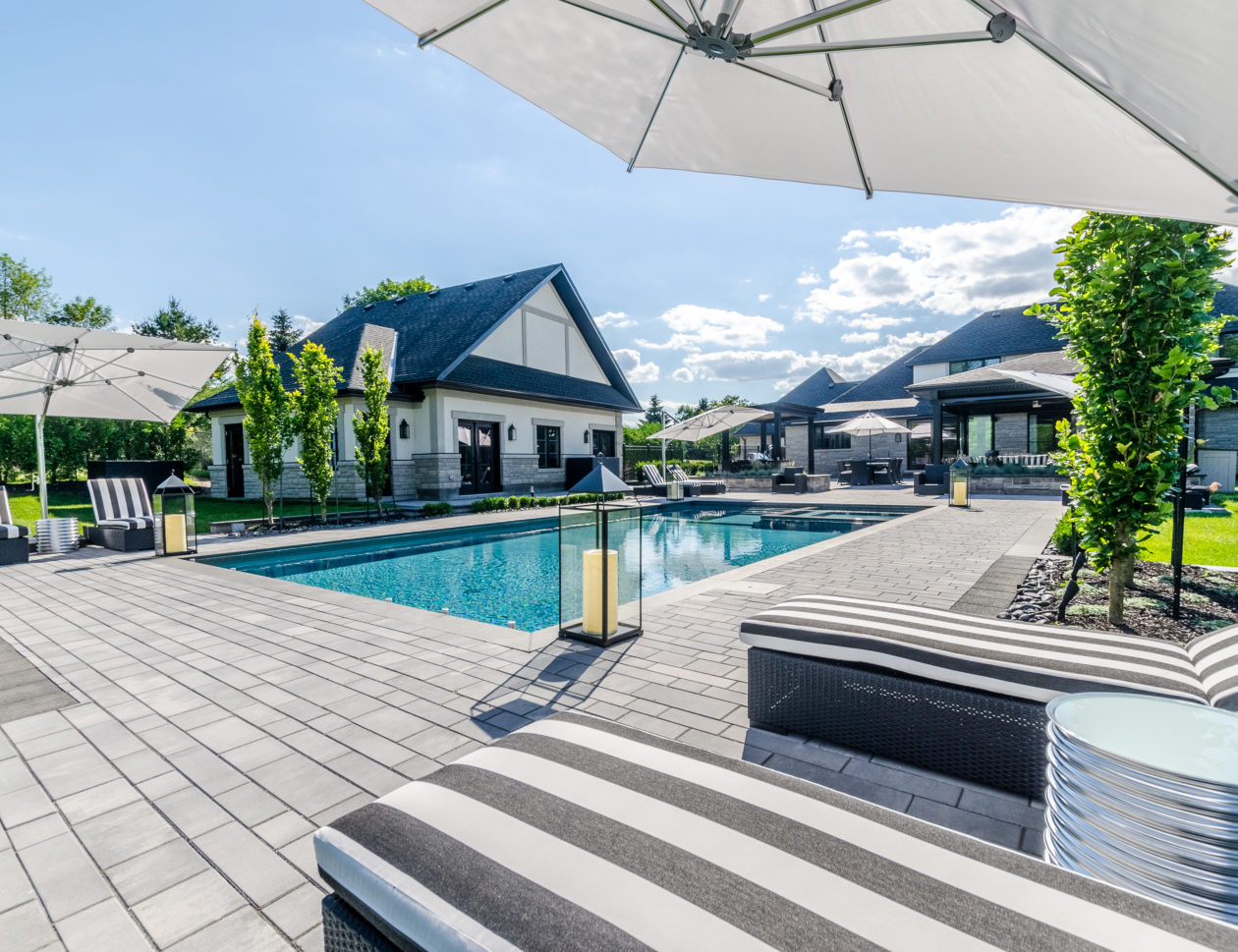 The existing septic bed location presented constraints that limited the clients use of space in the yard. Septic bed setbacks would not permit the size of pool they wanted, in the best location
The existing septic system would need to be slightly reconfigured to allow for the large 20 x 40 concrete pool to be placed on center with the clients home
Six lines of the septic system were remove, and reinstalled to allow space for the pool
Initially, the clients had just wanted a small outdoor space with a kitchen and a cabana with a fireplace. As the design progressed things changed; a secondary covered structure was added to the kitchen, and the patio was expanded to include a concrete pool. The natural stone fireplace in the cabana is a focal piece in this backyard. The wood and natural stone along with a crackling fire create a comfortable and cozy space to relax on those cooler summer nights. Raised planter boxes frame the path to the pool, separating the spaces while creating a cohesive feel through the use of materials.
Truly an entertainers paradise, the yard features a gunnite pool complete with hot tub and tanning deck, a covered outdoor kitchen & bar, custom wood burning fireplace, and modern cabana finished with automatic roller screens, and sliding glass doors.
Modernized, four season cabana provides homeowners with relaxing outdoor TV room in the summers, a cozy fireplace in fall

(

with screens to keep the mosquitoes away!), ceiling heaters provide warmth on the nights when the fire isn't enough. Lastly, sliding glass doors on three sides allow the structure to be fully enclosed for the colder nights.
Outdoor kitchen & bar including: BBQ, grill, fridge, sink, drink tough, & bar seating.
Raised planter boxes with local wiarton walling stone and granite coping separate the entertaining spaces
Enclosed dog run space with EasyTurf to minimize maintenance
20 x 40 gunnite pool complete with hot tub, tanning deck, and bench seating
Automated lighting & irrigation systems throughout with smart phone capabilities
Everyone at Pro-Land were wonderful to work with, especially John the owner. They were very helpful, professional and made the experience very enjoyable for my husband and I. We highly recommend this company.