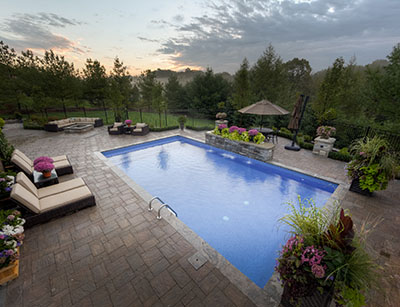 We were introduced to this project as the house was being built and it was evident from the beginning the grades were going to be a challenge. Large armor stone retaining walls were built at the back of the yard and behind the pool patio. This raised the grade of the grass to be at the height of the middle of the trees, so we ended up with a very lush green surrounding.
Large drop at back of property meant high retaining walls
Small building envelope dictated by the City, limited location of pool and cabana
The building envelope of this project also limited us to where we were able to build the cabana and pool patio. Luckily there was more than enough room for everything they wanted. Their property continued far beyond the building footprint, which was left to be an open grass area. A large wood burning firepit and flagstone water feature are custom features that make this design stand out. A large second story deck with outdoor kitchen and dining area, looks out onto the pool patio and beyond.

Large second story deck, created ample space for storage beneath
Outdoor kitchen and dining
Wood burning firepit
Custom cabana with bar, bathroom and storage
Flagstone water feature
Decorative walls and pillars in both front and back

–

highlighting key spaces within the design