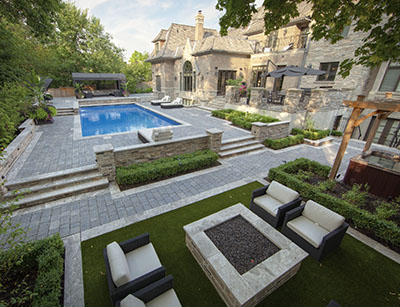 St. Andrew's Park South started as a large open space with multiple opportunities. Privacy was never an issue when designing, large existing trees surrounded the property meant we could utilize the entire yard to its full potential. Incorporating connections between the existing raised patio and basement walkout was our biggest challenge. Right away we knew this meant tiered patios would quickly become the key feature of this design.
Significant grade changes across width of yard
Design of the custom pergola for hot tub
Incorporating connecting between raised patio and basement walkout
Adhering to various by-law and conservation authority requirements
Creating pockets for each usable space meant retaining walls were essential, and rather than hiding them they were used to highlight each "outdoor room". A custom pergola over the hot tub, as well as a seating area around the fire are the first thing you see when entering the yard. Entry walls frame steps up to the pool patio which has plenty of room for lounging. Walls surrounding the deep end of the pool also function as a water feature. Each tier can have a separate purpose, without breaking up the functionality between them.

Large upper patio with outdoor kitchen and dining space
Pool with water feature, created by retaining walls
Decorative pillars and walls framing the steps to main patio
Turf and gas firepit lounge area
Pergola over the hot tub
Large trees and shrubs surrounding the property meant we did not have to worry about adding privacy
Pro-Land Landscape Construction Inc. has completed two landscape projects for our family. In both cases they have taken the lead role in project managing the entire process from start to finish with no issues completing both full landscape and pool projects on time and within budget.